Specialized in tool kits for government supplies and ITI Supply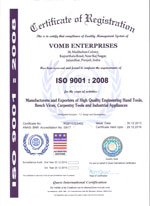 Established in 1997, from a very small scale manufacturing unit of Hand Tools, Vomb Enterprises has grown step by step and is now a ISO 9001-2008 certified company, catering to the needs of hand tools industry globally. It all happened because of our superior management,Quality of products and prompt delivery of consignments to our buyers in India and abroad.We are now manufacturing, supplying and exporting full range of spanners, vices, wrenches, automobile tools, hammers, carpentery tools, plumbing tools, gardening tools and leather tool kits worldwide from India.
We offer a wide range of Hand Tools for our clients to choose from
Double Open Ended Spanner, Combination Spanners, Ring Spanners...
Bench Vice, Baby Vice, Hand Vice, Unigrip M/C Vice, Drill Vice, Pipe vice Wood Workgin Vice....
Combination Pliers, Side Cutting Pliers, Grip Pliers, Shearing Pliers, Long Nose Pliers, Bend Nose Pliers, Flat Nose Pliers, Water Pump Pliers, Tin Cutter.....
Jack Plane, Block Plane, Drill, G Cramp, T-Bar, Try Square, F-Clamp, Bevel Square....
Ball & Cross Pin Hammer, Claw Hammer, Club Hammer, Stoning Hammer...
Pipe Wrench, Adjustable Wrench, Chain Pipe Wrench, Basin Wrench....
Chain Pipe Vice, Pipe Cutter, Pipe Die Set, Ratchet Pipe Threader, Tube Cutter.....
Bearing Puller, Silicon Gun, Cross Wheel Spanner, Tubular Box Spanner....
Hand Grinder, Rotary Pump, Punch, Grease Gun, Screw Driver, Tap Wrench, Hacksaw Frame, Wrecking Bar, Utility Bar, Bolster Chisel, Plumbob....
We also manufactur a wide range of Garden Tools and Leather products
Flower Cutter, Digging Spade, Shovel, Garden Shear, Dutch Hoe, Leaf Rake....
Leather Tools Apron, Handy mans Holster, Welding apron, Hammer holder...
Manufacturing process: A great stress is given upon quality of products for which advance and new techniques of manufacturing are always adopted.We are using the following machienary in producing world class hand tools for home and industry
Drop forging hammers
Power presses
Broaching machines
Duplex grinders
Heat treatment plant
Hardness testing equipment
Casting unit
Belt polishers
Chrome plating plant
Auto Black finishing Plant
Powder coating Facility
Skin, blister and pouch packing
Vomb Enterprises has a high production capacity backed by a team of skilled and experienced craftsman. For production of international quality products emphasis is laid down on each aspect from technology upgradation to quality of packing and marketing strategis.